An accurate diagnosis is essential for effective dysphagia management. Our state-of-the-art Dysphagia Systems Test (DST) is the only technique that evaluates all five bodily systems required for safe swallowing:
Muscular
Neurological
Respiratory
Gastrointestinal
Cognitive
We consider the function of each system individually and establish the patient's risk of complications from the dysphagia as a whole. Knowing what is causing the dysphagia helps us to identify the most effective approach to treatment.
We begin with a thorough review of the patient's medical history. One of our clinically privileged Speech Language Pathologists (SLP) will talk in depth with the patient, family, nurse and facility SLP about his or her medical conditions and symptoms.
Advantages of the DST
No transport to the hospital is required; the test is performed bedside
No interruptions to the patient's daily therapy schedule
No X-ray exposure
No barium-coated food substances; the patient is tested with food from his/her own tray
The patient can be tested in any position regardless of contracture, posture or cooperation level
The full-color, multi-dimensional view of the swallowing structures gives us a clear view of the patient's needs and issues, allowing us to make timely recommendations for treatment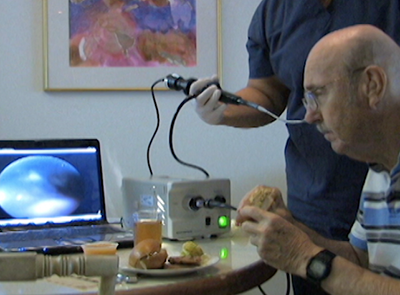 Our SLP will perform a special test to evaluate swallowing called an endoscopy, where a lighted scope is inserted through the nose, and the swallow is viewed on a screen, giving us a clear, multi-dimensional view of the patient's issues. Unlike other evaluation techniques, the DST uses food from the patient's own tray for the procedure. The patient is kept comfortable in his or her own bed or chair—at home, in the physician's office or therapy room—and can be fully monitored during the exam.

After reviewing the results with the patient and his or her Care Team, we provide recommendations for diet, therapy and further evaluations. Our SLP Specialists also train the living facility staff to be prepared for the most efficient identification of dysphagia, from admissions through discharge. This approach has been shown to improve patient outcomes and reduce repeat hospitalizations and repeat medical complications.